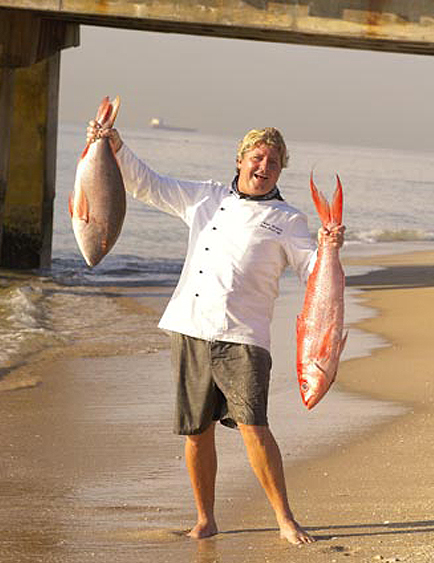 Chef Christopher Nealon has spent the last 35 years creating delicious tropical dishes in South Florida restaurants, and even on private yachts in the Bahamas, West Indies, and the Virgin Islands. Today he is a highly regarded executive chef in South Florida, and his well-honed culinary skills quickly achieve respect from all who work with him.
Chef Christopher has been with Aruba Beach Cafe for 26 years, and continues to tantalize the taste buds of the masses. He has received both the Golden Spoon Award and the Florida Magazine Readers choice for 4 consecutive years, and is also a 4-time 1st place winner at the Fort Lauderdale Seafood Festival.
I could go on and on about this culinary wunderkind, but why don't you go visit Aruba Beach Cafe yourself, and try Chris' Sesame Crusted Salmon, Seafood Stir Fry or Lobster Salad Sandwich (1st Prize in Ft. Lauderdale Seafood Festival) just to name a few. The Conch Fritters with tequila and lime remoulade were voted best in Ft. Lauderdale, too.
You can contact Chef Chris directly at: Chefchris@arubabeachcafe.com